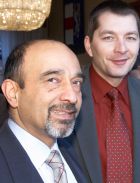 Project title:
Age & gender related septic complications in trauma patients: individually tailored treatment during posttraumatic phase
Co-Principal Investigator(s):
Soheyl Bahrami (Ludwig Boltzmann Society)
Status:
Completed (01.05.2008 – 30.04.2012)
Funding volume:
€ 775,500
---
Sepsis is a complex syndrome with wide presentation of symptoms, hence it is difficult to define, diagnose and treat. Among the numerous events that contribute to the enhanced susceptibility of patients to infection, the decline of immune function that accompanies aging is of critical importance. Moreover, the immune defense capacity differs between males and females. We hypothesise that lethality due to septic complications in patients with multiply trauma stems from an improper, either hyper-or hypo-inflammatory, response and can be quelled not by generalized but by an individual therapy tailored specifically to age and gender. The proposed project addresses the mechanisms and prevention of septic complications in young/aged and male/female patients with multiple trauma. The project will be carried out in experimental animal models of trauma and sepsis in an attempt to improve survival by age/gender related goal-directed immune modulation.
---